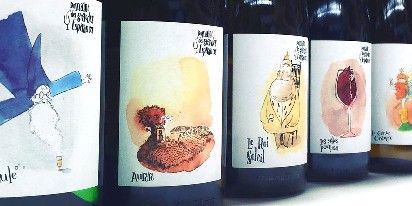 17 Jul

Domaine des Grandes Espérances

About Domaine des Grandes Espérances

Contemporary and forward-looking
The Domaine des Grandes Espérances, currently in organic conversion, has adhered to the Terra Vitis scheme, pioneer of sustainable viticulture in France, for nearly ten years. But even if the Domaine holds environmental concerns dear to its heart, drinking enjoyment comes a close second. Its wines are generous, full of fun, charm and promise… That's right, it is all about "grandes espérances" (great expectations)…
With around ten different varieties planted over 43 hectares, the Domaine boasts an excellent stock of raw materials from which it can create and continually adapt its wines according to the vintages. The soils where the red varieties (Cabernet Franc, Malbec, Gamay, Pinot Noir…) grow are mostly composed of sand and gravel, producing full, generous wines. The white varieties (Chenin Blanc, Sauvignon Blanc, Chardonnay…) benefit from more siliceous soil, resulting in delicious, pure and mineral wines.
The continental climate with its oceanic influences is conducive to grape growing. The winters, very hard on occasion, can drag on through the season and late frosts are certainly the greatest threat to the Domaine. Their adherence to the Terra Vitis scheme for close to 10 years has changed their viticultural practices considerably. Although short pruning, de-budding and leaf stripping were already being practiced, the tilling of the soil, the grassing of some plots, green harvesting and the use of certified products are more recent practices which each day help them to obtain a healthy, higher quality harvest. The Domaine maintains its momentum and is currently in organic conversion.
Official Website: https://www.grandes-esperances.com/
---
# ENOTECA is appointed as the Official Distributor of Domaine des Grandes Esperances wines in Hong Kong.

Domaine des Grandes Esperances
Aurore
Touraine
2018
750ml

Domaine des Grandes Esperances
Le Génie Orange
Vin de France
2018
500ml

Domaine des Grandes Esperances
Le Roi Soleil
Touraine
2016
750ml

Domaine des Grandes Esperances
La Naine Blanche
Touraine
2017 / 2018
750ml

Domaine des Grandes Esperances
La Java des
Grandes Esperances
Touraine
2018
750ml

Domaine des Grandes Esperances
Les Ailes Pourpres
Touraine
2014
750ml

Domaine des Grandes Esperances
Supernova
Touraine
2015
750ml

Domaine des Grandes Esperances
La Naine Rouge
Touraine
2015
750ml