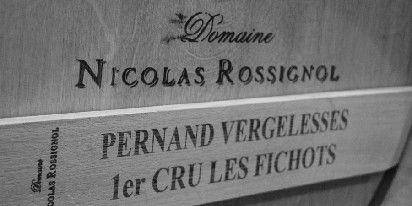 10 Jul

Domaine Nicolas Rossignol

About Domaine Nicolas Rossignol

HIGH QUALITY DOMAINE FLYING UNDER THE RADAR
Nicolas Rossignol was born in 1974, the 5th generation of winegrowers in Volnay. After studing in high school of wine making in Beaune, Nicolas practises on different estates like Domaine Joseph Voillot in Volnay,  Domaine Louis Latour in Ardèche and Domaine du Vieux Telegraghe in Châteauneuf du Pape. In 1997, he created his own estate with 3 ha on the village of Volnay, Pommard, Beaune, Aloxe-Corton and Pernand-Vergelesses. The wines of the Nicolas Rossignol estate are produced using carefully sorted grapes from vineyards grown using traditional winemaking techniques inspired by biodynamics.
The vineyard is managed using reasoned viticulture methods, taking account of the lunar influence, both during cultivation and the production & elevage of the wine. No chemical herbicides are used. Soil maintenance is ensured through light ploughing. The harvesting is exclusively carried out by hand using tradition-based Burgundy wine-making techniques. Each bunch is placed by the grape gatherers into small 8kg boxes, thereby avoiding any further handling between the time they are picked and the time they are sorted. The harvested grapes are not "crushed".
The elevage can vary from 10-20 months depending on the vintage. This takes place on fine lees; the wines are never racked. The casks, and in particular the origin of the wood, are carefully selected in order to best comply with the agreement between the terroirs and to ensure the character of each wine. The percentage of new casks used is adapted according to the year and the terroir, between 0-50%. Malolactic fermentation is delayed so that it only occurs about 6 months later, in the following Spring, thereby giving greater aromatic complexity and structure to the wine. The lunar calendar will influence when the elevage ends: the wines on the lees are racked and mixed together so as to homogenise the content of the vat.
The wine is bottled a few weeks afterwards without fining or filtration.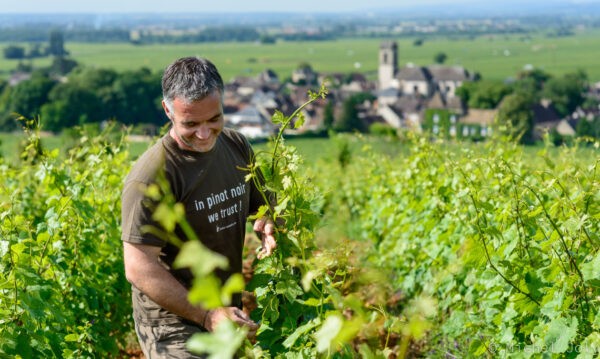 ---
To contact Brand Manager, please email to marketing@enoteca.com.hk.
To contact Distribution Team, please email to wholesales@enoteca.com.hk.
Domaine Nicolas Rossignol
Aloxe-Corton
2016
750ml

Domaine Nicolas Rossignol
Savigny Les Beaune 1er Cru
Lavieres
2015
750ml

Domaine Nicolas Rossignol
Savigny Les Beaune 1er Cru
Fourneaux
2015
750ml

Domaine Nicolas Rossignol
Savigny Les Beaune 1er Cru
2016
750ml

Domaine Nicolas Rossignol
Pommard 1er Cru
Epenots
2015
750ml

Domaine Nicolas Rossignol
Pommard 1er Cru
Chanlins
2015
750ml

Domaine Nicolas Rossignol
Pommard 1er Cru
Chaponnières
2015
750ml

Domaine Nicolas Rossignol
Pommard 1er Cru
Argillières
2015
750ml

Domaine Nicolas Rossignol
Pommard 1er Cru
Jarolières
2015
750ml

Domaine Nicolas Rossignol
Pommard
Les Vignots
2016
750ml

Domaine Nicolas Rossignol
Pommard
Les Noisons
2015
750ml
Domaine Nicolas Rossignol
Pommard
2015
750ml

Domaine Nicolas Rossignol
Volnay 1er Cru
Taille Pieds
2015
750ml

Domaine Nicolas Rossignol
Volnay 1er Cru
Cailleret
2015
750ml

Domaine Nicolas Rossignol
Volnay 1er Cru
Chevret
2015
750ml

Domaine Nicolas Rossignol
Volnay 1er Cru
Ronceret
2015
750ml

Domaine Nicolas Rossignol
Volnay 1er Cru
Santenots
2015
750ml

Domaine Nicolas Rossignol
Volnay
2016
750ml

Domaine Nicolas Rossignol
Bourgogne
Cuvée L'Héritière
2015
750ml

Domaine Nicolas Rossignol
Bourgogne
Pinot Noir
2015
750ml