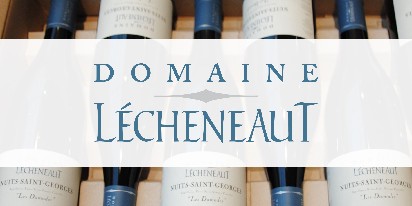 12 Jul

Domaine Lécheneaut

About Domaine Lécheneaut

PHILIPPE AND VINCENT LECHENEAUT,

BURGUNDY IS THEIR DOMAIN…

The House of Lécheneaut is implanted in Nuits-Saint-Georges where it holds a prestigious position in the heart of the Burgundy terroir. It flourishes on ten hectares of vineyards scattered among eighteen glorious appellations from Côte de Nuits, which bestows its rich intensity and uniqueness. Fifty to sixty thousand bottles of renowned nectar are released each year from its winery, sent off to conquer the international markets.
Today, Vincent and Philippe Lécheneaut wish to enlarge once again the map of their appellations in order to satisfy the demands of their national and international clients. They are in a continuous pursuit of qualitative progression, staying abreast of the most efficient equipment, all while preserving the traditional and family character of their domain.

The Lécheneaut Domain practices natural agriculture, using products for all pest control and only organic matter for fertilizer with the goal of preserving the microbial balance of the soils. The land is plowed in a traditional fashion and all the vines are pruned in the Simple Guyot style. The disbudding and green pruning are all done by hand to closely control the yields. Before harvesting, a careful stripping of extra leaves is performed on the north side of each row in order to facilitate aeration for the grapes and to limit the presence of botrytis. If despite all these precautions the harvest volume is predicted to be too high, a green harvest will occur in order to ensure exemplary ripeness of the grapes.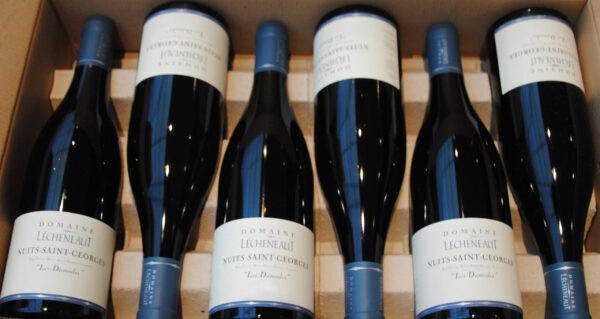 ---
# ENOTECA is appointed as the Official Distributor of Domaine Lécheneaut in Hong Kong.
To contact Brand Manager, please email to marketing@enoteca.com.hk.
To contact Distribution Team, please email to wholesales@enoteca.com.hk.

Domaine Lecheneaut
Nuits-Saint-Georges
1er Cru
Les Damodes
2017
750ml

Domaine Lecheneaut
Nuits-Saint-Georges
1er Cru
Les Pruliers
2017
750ml

Domaine Lecheneaut
Nuits-Saint-Georges
Au Chouillet
Vieilles Vignes
2017
750ml

Domaine Lecheneaut
Nuits-Saint-Georges
Rouge
2017
750ml
Domaine Lecheneaut
Chambolle-Musigny
2017
750ml

Domaine Lecheneaut
Gevrey-Chambertin
2017
750ml

Domaine Lecheneaut
Morey-Saint-Denis
Rouge
2017
750ml
Domaine Lecheneaut
Bourgogne
Hautes-Côtes de Nuits
Rouge
2017
750ml
Domaine Lecheneaut
Bourgogne Rouge
2017
750ml

Domaine Lecheneaut
Morey-Saint-Denis
Blanc
2017
750ml

Domaine Lecheneaut
 Bourgogne
Hautes-Côtes de Nuits
Blanc
2017
750ml

Domaine Lecheneaut
Bourgogne Aligote
2017
750ml