25 Oct

Pietradolce

About Pietradolce 

Pietradolce is located on the Northern slope of Mount Etna. The Faro family deeply respect the traditions of the Etna area and it represent the core of the company philosophy. The winery has always employed organic cultivation methods, without the usage of pesticides nor insecticides, and inspired to the environmental sustainability, both in the vineyard and in the cellar.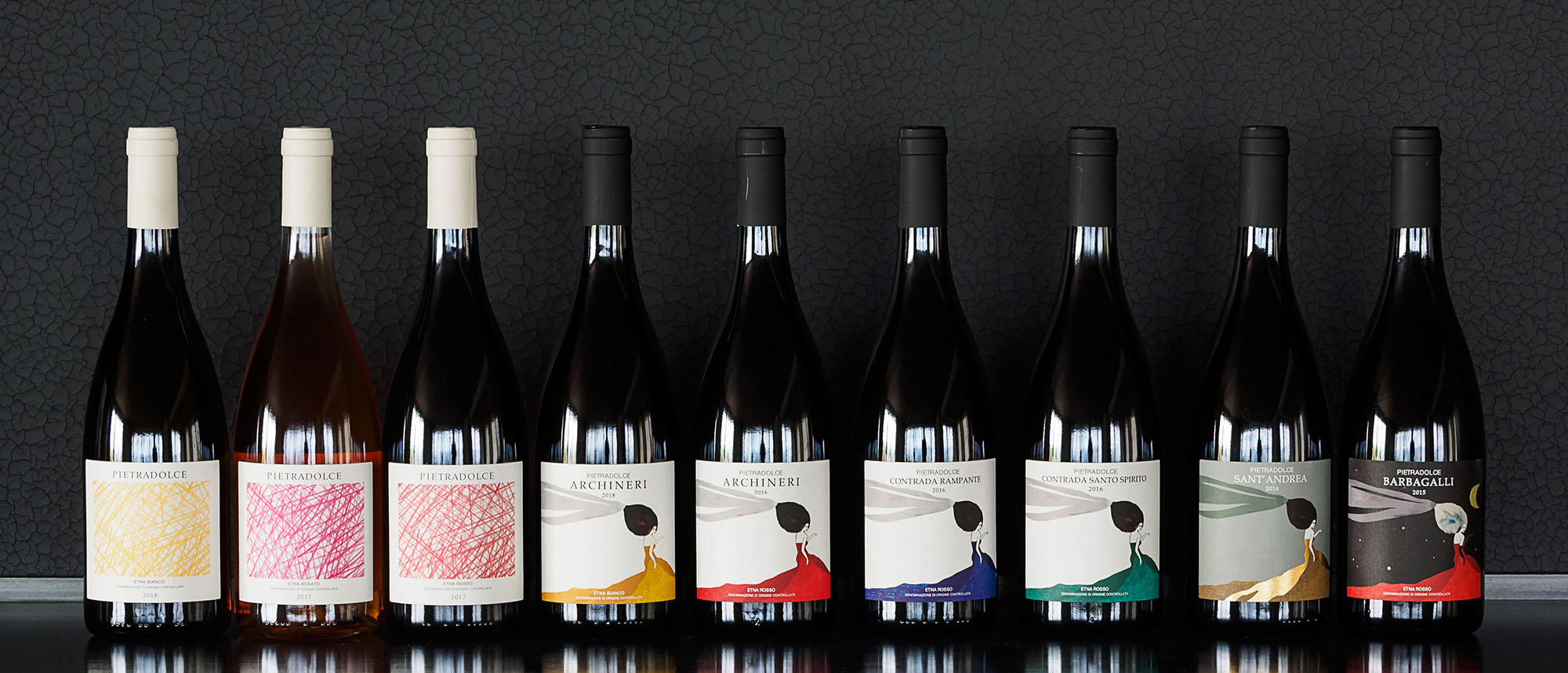 On the Northern slope of Mount Etna, Pietradolce extends across 30 hectares, divided into the "Contrade" (Crus) Rampante, Santo Spirito and Feudo di Mezzo, located at an altitude between 650 and 950 meters above the sea level, from which the homonymous crus are produced. In Contrada Rampante, there are also the vineyards, where "Cru" Archineri Etna Rosso and "Grand Cru" Barbagalli Etna Rosso are produced. In addition to these ones, on the Eastern slope of Mount Etna, the winery owns 2 other hectares, located at 850 meters above the sea level, near the village of Milo, where the "Cru" Archineri Etna Bianco and the "Grand Cru" Sant'Andrea Bianco are produced. All the above-mentioned wines are produced from pre-phylloxera vines between 90 and 130 years old bushy shape vines. Whereas the entry level wines (classic wines) are produced using younger vineyards.
The different mineral composition of the volcanic soil in the several plots allows to produce peculiar wines which are loyal expression of their terroir. The winery cultivates just indigenous grape varieties, main characters of its history: Nerello Mascalese, Nerello Cappuccio and Carricante.
Official Website: http://www.pietradolce.it/eng/home.html
---

Pietradolce
Barbagalli
2018
Etna Rosso DOC
750ml
HK$1,700
Pietradolce
Sant'Andrea Carricante Bianco
2018
Terre Siciliane IGT
750ml
HK$1,700

Pietradolce
Archineri
2019
Etna Rosso DOC
750/1500ml
HK$420/HK$880

Pietradolce
Contrada Rampante
2019
Etna Rosso DOC
750/1500ml
HK$420/HK$880

Pietradolce
Contrada Santo Spirito
2019
Etna Rosso DOC
750ml
HK$420

Pietradolce
Fuedo di Mezzo
2019
Etna Rosso DOC
750ml
HK$420

Pietradolce
Rosso
2021
Etna Rosso DOC
750ml
HK$240

Pietradolce
Bianco
2021
Etna Bianco DOC
750ml
HK$240