07 Dec

Perfect wine to pair with Christmas dinner
Perfect wine to pair with Christmas dinner
Having big dishes with nice wines in Christmas is so enjoyable. But there are many kinds of dishes for Christmas and there also are many types of wine. How to do food & wine pairing to make the food and the wine as well taste better? In fact, unless your job is serving wines as a sommelier, you do not need to be obsessed with how to match food and wine to enhance enjoyments. Let's not pursue the enhancement of the taste and fun of eating and drinking. Instead, avoiding ruining each other may be more practical and easier for ordinary drinkers – that is to say: you don't need to be a good student, but don't be a bad one.
But, first of all, you have to keep in mind: wine is made to accompany food, that is, to be enjoyed with food. It is the authentic and purest function of wine. So please try not to drink with empty stomach! Even if you are not hungry, try having some chips or nuts or biscuits and give the wine some respect.
"Red meat with red wine, white meat with white wine"
"Red meat with red wine, white meat with white wine" could be the simplest and easiest rule for food-wine paring – although it may not always enhance each other, this rule of thumb probably will not drag each other down too much – this is the "good student bad student" principle.
At a higher level, the key to wine-food pairing is not the color of the ingredients and the wine, but the sauce, cooking method, and characteristics of the ingredients – pairing according to flavor, texture, intensity, and acidity. Cooking with heavy and rich sauces such as curry or cheese cream can be well paired with a rich, full-bodied wine (not necessarily red wine). Dishes made with cooking methods such as steaming, poaching, coddling go well with lighter and more elegant wines. If the ingredients themselves contain more oil/fat, such as salmon or fried foods, then a refreshing wine with sufficient acidity could be good to wash away the greasy feeling in the mouth. Wines with spicy aromas are also easy to match with dishes cooked with spices (such as pepper). Dry wines that are not sweet are generally not good partner for desserts, because sweetness can easily makes the wine taste sour and unflattering.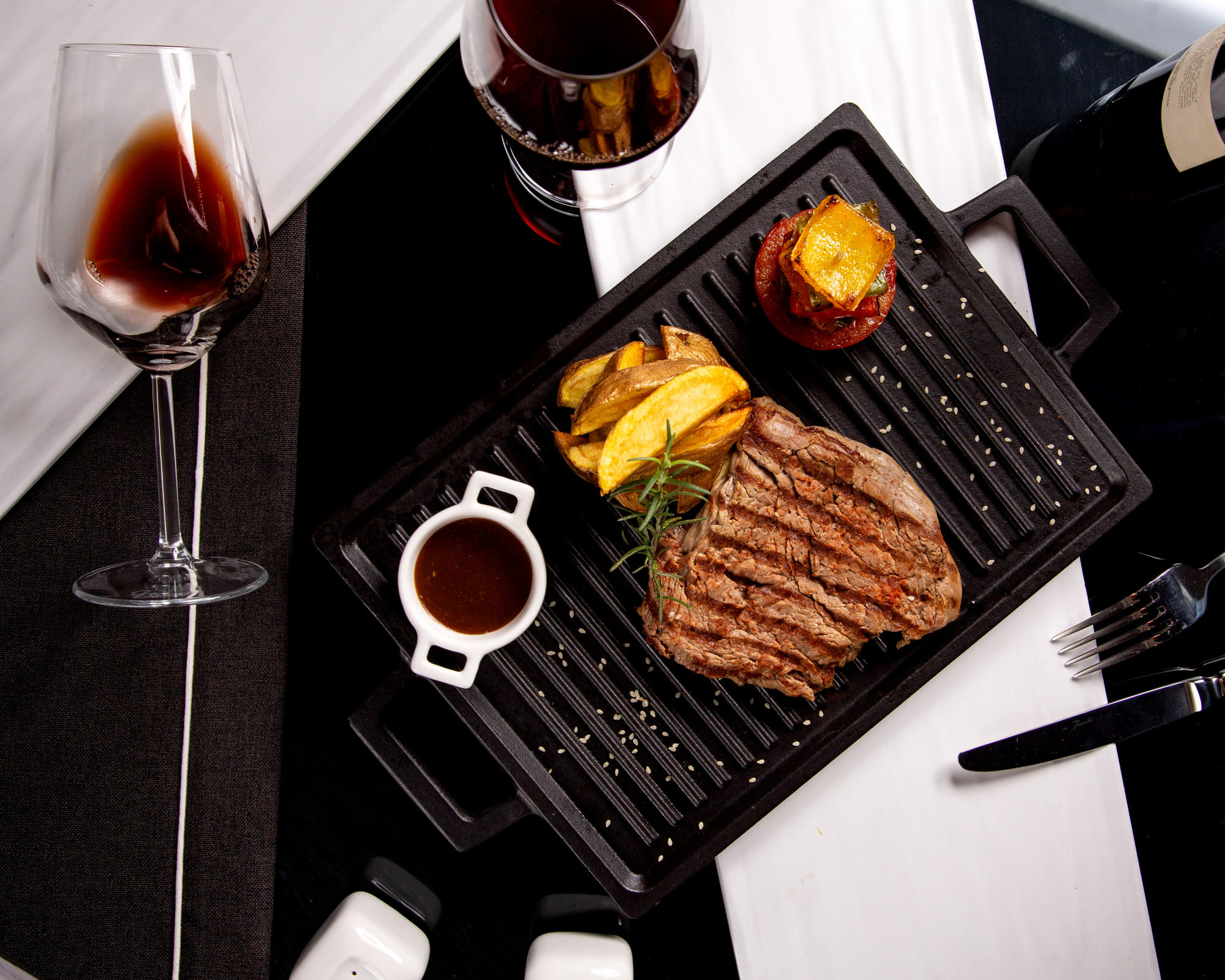 So, what wines are good with Christmas turkey? Burgundy reds or Pinot Noir from the New World are recommended. Pinot Noir is a classic and perfect match with poultry such as geese, pigeons, roast chicken (Burdundian "blue-footed chicken" – Bresse chicken!). Barolo or Barbaresco, and aged Australian Shiraz are also very good with Christmas turkey. How about pan-fried steak on Christmas Eve? How about smoked ham, another Christmas delicacy? For steak, depending on the cuts (ribeye, sirloin, tenderloin), wine selection could range from fruity, full-bodied Barossa GSM to structured, moderate tannic Rioja to classic, elegant Bordeaux red wine. A Chianti red could bring out well the smoky aroma of smoked ham.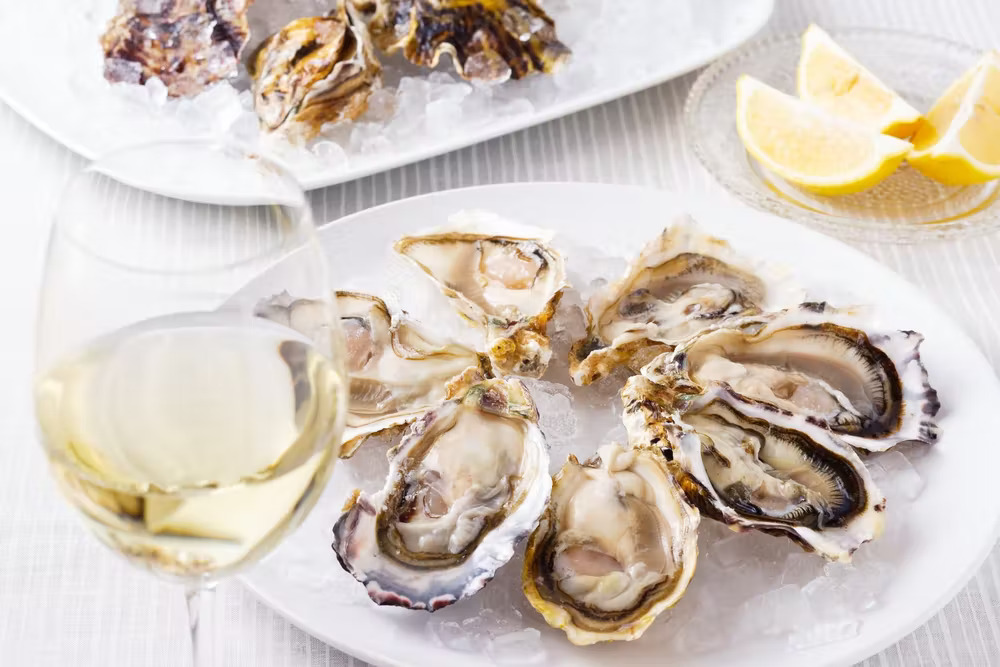 What to pair with fresh oysters and smoked salmon? Oysters and Chablis (a wine with vibrant acidity) are the most classic pairing (same principle as adding lemon juice to oysters – acidity makes oysters taste more delicious)! Champagne or Sauvignon Blanc such as Sancerre also pairs well. In addition, also try to enjoy Japanese sake with oysters. Champagne (Franciacorta as well) and smoked salmon are a match made in heaven, but try a salmon-colored rosé if you're not too fond of sparkling wines. Pair a Sauternes or Moscato d'Asti with foie gras for wonderful taste! For pan-fried foie gras, choose champagne or a dry Riesling such as Großes Gewächs (GG for short) Riesling from Germany. Having cheese fondue at Christmas is also very popular, but it is not easy to find a good wine pairing. Generally speaking, you may choose matured and full-bodied, oaked Chardonnay such as Burgundy whites, which can make the lactic acid in cheese taste soft and improve the texture. The buttery aroma in the Chardonnay also enhances the flavor of cheese. For ladies' beloved desserts, we have Christmas cake, pudding, gingerbread, etc. at Christmas. Choose a sweet wine with appropriate sweetness to match the sweetness of the dessert. For desserts that are not very sweet like Christmas cake, an off-dry (i.e. not completely dry, with a hint of sweetness) wine such as Gewurztraminer from Alsace would be very good.
Those bottles you can't finish can be used to make a must-have drink for Christmas – mulled wine. Hot and usually slightly sweet, full of spicy flavour such as cinnamon, cloves and nutmeg, mulled wine warms your body after drinking it, and is a traditional drink at winter festival in western countries.
This is a concentrated red wine with aromas of black fruits, floral notes and mineral and spicy touches. On the palate it is fresh, lively and enveloping. An intense, immediate wine with silky tannins, honest acidity and a lovely finish.
Ruby red in colour with purplish hues, it initially reveals sophisticated notes of vanilla, black pepper and cloves, echoed by gentle nuances of raisined grapes. On the palate it is velvety, with soft tannins and a long and persistent finish.
Fresh fruit and floral aromas dominate the nose; pink grapefruit, tangerine, citrus blossom, and apple flavors are complemented by a bit of wet stone. The oak influence creates a nice mid-palate, the wine shows a balanced acidity that carries through the long finish.
Very floral, mentholated nose. On the palate, this wine is elegant, fresh and very smooth. A wonderful pairing with Pikeperch filet or rabbit with white wine sauce.
Clear and pale. Red fruits on the nose. The mouth is lively with layers of gooseberry and fruit drops. A delectable wine best served at 10°C.